Dual Champion Barben's Rapacious Rascal, Master Hunter
OFA Good/Eyes CERF
For some reason beyond our ability to comprehend our friends have to leave before we feel it is time. So is the case with our dearest friend Rascal. He was ours but for a brief time, but in that brief time he imprinted our lives forever for the better.

We wish to think the reason Rascal had to leave so soon is God decided he needed one of the best with him.

Rascal, you were called home too early to suit us, but we are thankful for the time you were with us and so grateful for the part of you we have in your kids.

Until we meet again........

February 20, 1996 to January 6, 2003
Below is Champion "Rascal" expertly handled in Junior Showmanship by Lindsay Stiles.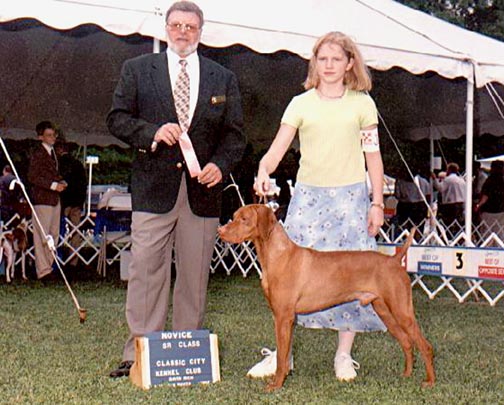 Next is "Rascal" with his collection of trophies and ribbons. He has enjoyed every minute it took to obtain them. Rascal finished his Breed Championship at 16 months of age. He is a natural in the field, obtaining Junior Hunter title at 10 months, his Senior Hunter title at 3 years, and then his Master Hunter, and Field Championship at 4 years of age. We feel he is the epitomy of a wellbred all round Vizsla.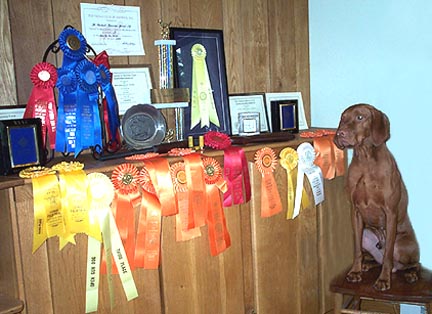 For parties not sure what "Dual Championship" means, (occasionally abbreviated with DC), please read on. A dual champion is a dog or bitch that has obtained their championship in two different areas. In Rascal's case, he obtained both his Breed (Conformation or also called "Show") championship, and then finished his Field Championship. We have hopes that one day we may add on a National Field Trial Championship to his accomplishments.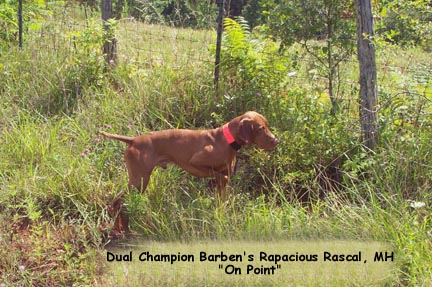 Dual Champion Barben's Rapacious Rascal, MH
Vizsla
Sire
BIS, BISS,Ch. Barben's Standing Ovation
Sire
Barben's Defender
Sire
Am.,Can.,Ch. Valhi's Stick to Your Guns, CD, VC
Dam
Ch. Barben's New Years Champagne
Dam
BIS,BISS,Am.,Can.,Puerto Rican,Mex, Ch. Barben's Peppermint Pattie, JH
Sire
Ch. George Bey of Bethwood
Dam
Ch. Firebrands Sunny Rebecca
Dam
Piper Barben's Holly Golightly
Sire
AFC,DC Riverbend's Deacon Dandy, CD
Sire
Am.,Can. Valhi's Stick to Your Guns
Dam
Ch. Oakleaf's Rebel Rouser Image
Dam
FC,AFC Piper's Beacon Hill Bess
Sire
Piper's Cape Cod Clipper
Dam
AFC,DC Camelot's Capricious Caper
This pedigree page was built for free at SitStay.com
This is Midan's Maximus Decimus Meridius. Rascal's Son. We are very proude of Max and Rascal for what he has produced. Just look at that head. Rascal typically produces head like this. Look for "Max" in the near future for both Show and Field events. BOY, time sure flies!! Just looking at this picture and it is hard to believe this little boy is now grown up and and really handsome man. Max finished his Show Championship at 11 months of age. He shows promise in the field if we can get him to settle down and concentrate. Max is standing at Stud for approved bitches.
Champion Maximus Decimus a.k.a. Max is available at stud to approved bitches. Please feel free to email us for more information.
For parties interested in a Max's servicing, or another Midan Vizsla, please take a few minutes to fill out our questionnaire. Thank you.